Scholefield Family Tree
When putting together a lineage, sometimes the hardest thing to do is find a woman's maiden name. This is true whether you are working back in time when records are not present, or if you are working in a situation where you have decided to only work with internet records. In this project, since this is not my family, I do not want to spend money to order certificates or microfilm, so I am working with what I already pay for as part of my personal research and what I can find for free.
There is likely a marriage certificate in California for James Arthur Moore's marriage to his second wife Frederica. And it may completely contradict my findings below. If this were my own family, and since James is only a sibling, I would still have to consider the cost involved in ordering that certificate. Instead I would see if there is microfilm I could get delivered to my local Family History Center. Even an index would help to point to a maiden name and date (since I don't really need her parents names or anything beyond just a basic identity for her).
What I know:
James Arthur Moore was living with a wife named Frederica P. on the 1930 Census in San Diego, California.1 That same wife is listed on his death certificate in Arizona in 1946.2
Information about Frederica from the census indicated that she was born about 1880 in Sweden (though the enumerator had begun to write a D). Her parents were born in the same country and since an immigration date of 1887 is reported, the whole family likely moved to the US with their young children in tow. She was employed in 1930 as a fitter in a department store.
If the SSDI hit is a match, her birthdate can be narrowed to 31 May 1879.3
---
To attempt to locate her, I run a search on Ancestry in the 1920 Census for: Frederica, born 1880 in Sweden, living in California.
No exact hits, but partway down the page of results, a name catches my eye:4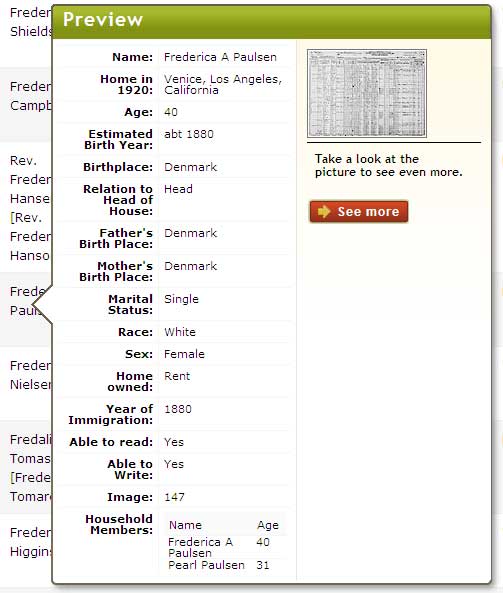 This is close! The last name Paulsen would even provide an explaination for the middle initial of "P" in 1930! The only problem is that this reports her birth place as Denmark — but remember that the 1930 enumerator had begun to write a place that began with a D and then "corrected" the record to read Sweden! Checking the image reveals that Frederica was employed as a dressmaker in a shop. This is similar to the occupation of a fitter. However, this record reports that she immigrated in 1880 instead of 1887. Frederica is living with her sister Pearl who had been born in Wyoming.
---
Since the 1900 Census reported a more exact birthdate, I checked it next. I find Frederica and Pearl living with their parents in Rawlins, Carbon, Wyoming.
5
Their father Peter is the enumerator for the area, so the information for his family can be considered accurate. He reported that the family immigrated in 1881 — this might explain why the 1930 enumerator wrote 1887 as the numbers are formed similarly and can be confused. He also reported that Frederica was born in May 1879. This matches the possible SSDI hit. And in 1900, Frederica was still employed as a dressmaker.
---
Sometimes, voting records are used a census substitutes (they prove residency). Ancestry has up voting records for California, and the following results pop up for San Diego County. They continute to confirm that Frederica who was married to James was a dressmaker:
1934, Moore, Mrs. Frederica–2529 C, Drssmkr. Rep, Prec. 171
——, Moore, James A–2529 C, Laborer, Dem
1938, Moore, Mrs. Frederica–2529 C, Drsmkr. Rep, Prec. 211
——, Moore, James A–2529 C, Wtchmn, Dem.
1942, Moore, Mrs. Frederica, 2529 C, Drsmkr. Rep, Prec. 320
——, Moore, James A, 2529 C, Wtchmn. Dem.6
I am feeling pretty confident that this is the wife of James Arthur Moore, but if I want to create a rock solid case, additional information still needs to be located.
1. See post dated 8 Nov 2008.
2. See post dated 20 Oct 2008.
3. See post dated 28 Nov 2008.
4. 1920 U.S. census, Los Angeles County, California, population schedule, Venice, enumeration district (ED) 623, sheet 5A, p. 73 (stamped), dwelling and household numbers blank, Frederica A. Paulsen household; digital image, Ancesty.com (http://www.ancestry.com : accessed 29 Nov 2008); citing National Archives and Records Administration microfilm T625, roll 120.
5. 1900 U.S. census, Carbon County, Wyoming, population schedule, Rawlins, enumeration district (ED) 13, sheet 1A, p. 223 (handwritten), dwelling 1, family 1, Peter Paulsen household; digital image, Ancestry.com (http://www.ancestry.com : accessed 29 Nov 2008); citing National Archives and Records Administration microfilm T623, roll 1826.
6. "California Voter Registrations, 1900-1968," database, Ancestry.com (http://www.ancestry.com), entries for James A. Moore and Mrs. Frederica Moore for the years 1934, 1938, and 1942; citing State of California, United States, Great Register of Voters, California State Library, Sacramento.